You can't miss the opportunity to score a spot in this brand-new 792-foot tower rising above Manhattan's trendy
Tribeca
neighborhood. Once built, 111 Murray Street will soar gracefully above the skyline, allowing residents 365-degree views of the adjacent harbor and surrounding city. Residents at this luxury address will enjoy high-end amenities, beautiful contemporary common areas and one of the most convenient locations in the city.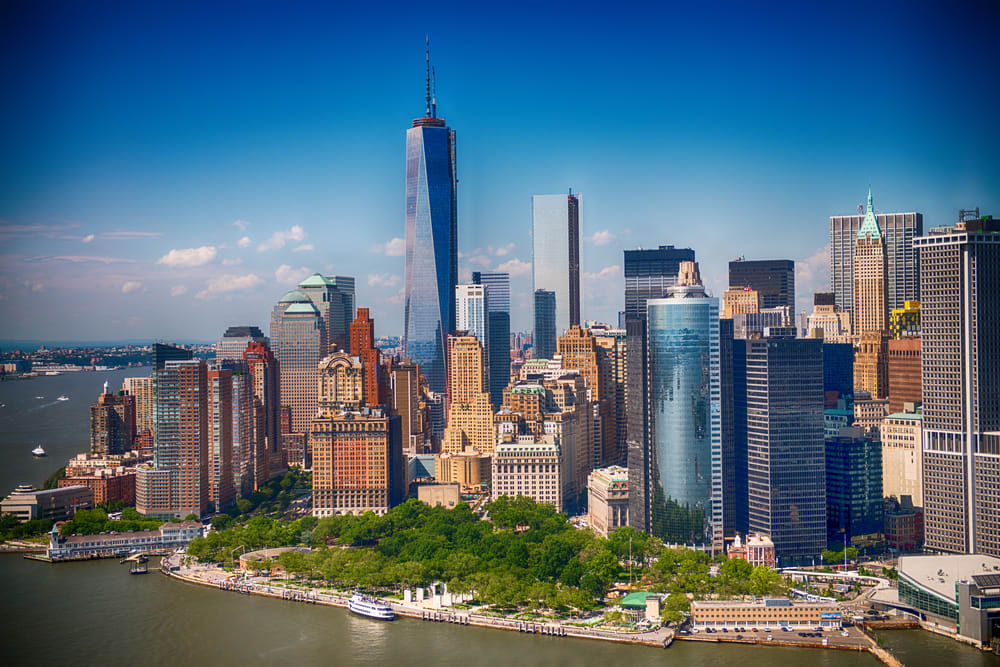 Lower Manhattan Skyline
Built by Kohn Pedersen Fox Associates, this airy building is planned to gently curve toward the sky. 65-floors of crystalline bliss, the building will be as attractive to the outside world as it is to its future homeowners.
Real Estate Insights
Proposed prices for an apartment at 111 Murray Street vary from around $2 Million for a one-bedroom 791-square-foot apartment to $15 Million or more for a four-bedroom bedroom exceeding 3000-square-foot of living space. The building will offer incredible penthouse apartments that stretch over an entire floor and feature sprawling views of Manhattan and the harbor. In order to explore the full 111 Murray Street real estate offering and to negotiate the best deals, buyers looking for an apartment at 111 Murray Street should seek out a New York realtor who has experience with this particular building.
Amenities
111 Murray Street will offer its residents a vast array of exciting amenities including discounted membership to Blue Star Jets' 25 Hour Sky Card Program, which offers private jet and plane services. Occupants will be able to enjoy downtime in one of the many common areas or go for a swim at the 75-foot lap pool and 25-foot jetted splash pool. The patisserie will offer small bites and can be transformed into an intimate event space, while the communal professional demonstration kitchen and dining room are the perfect places to entertain.
Residents will be able to relax in style in the Turkish hammam and luxury spa that features its very own hair salon. Featuring a terrarium yoga studio, the 3,000-square foot fitness center will be a haven for fitness enthusiasts. The teen recreation room with movie screen and the interactive children's playground and kitchen will allow even the building's youngest residents a relaxing piece of respite. The 24-hour lobby, planned to be decorated in modern lines and clean elements, will feature reclaimed wood and stunning crystal light fixtures.
Insider Tips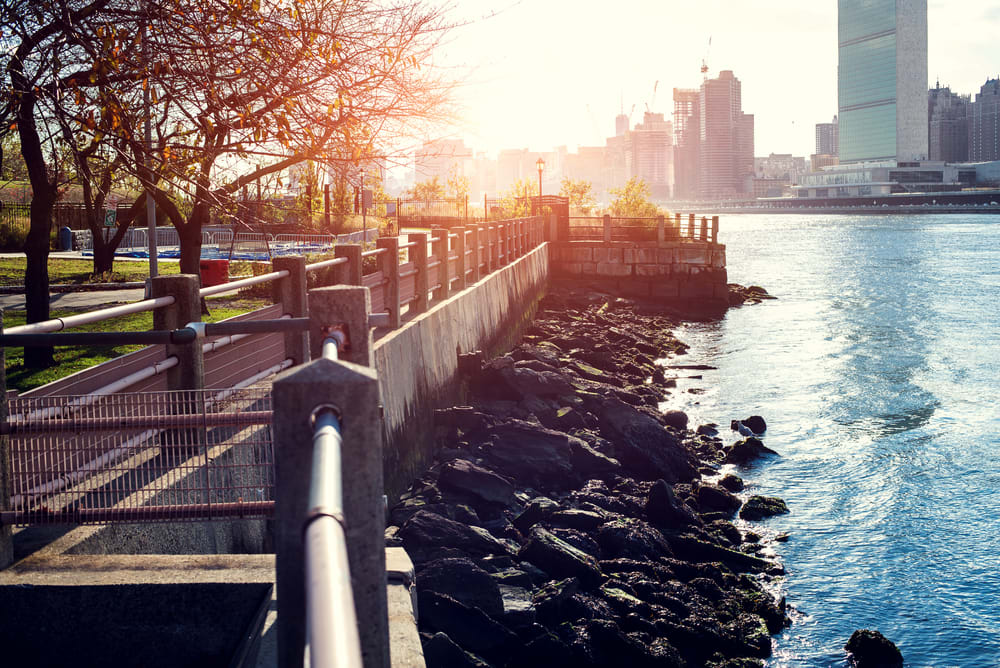 Lower Manhattan at Sunset


Parks and Nature

Residents of 111 Murray Street will enjoy access to nearby parks and waterfront areas. Only two blocks away sits Washington Market Park, which offers plenty of activities and areas for relaxation. Tennis and basketball courts give residents plenty of opportunities for exercise; the gazebo is a fantastic place for a picnic. The park also features a community garden, art activities for kids and a little library. Just a short walk away, Nelson Rockefeller Park offers stunning views of the Hudson River. Smaller Parks like Duane Park and Bogardus Garden are also located just minutes from 111 Murray Street.
Restaurants 

111 Murray Hill will be close to some of the hottest restaurants in Tribeca.  Robert De Niro's Tribeca Grill—only a few blocks away—serves up hearty steaks, crisp Caesar salads and fresh pasta. Vino enthusiasts appreciate the extensive wine list. The industrial ambiance is a throwback to Tribeca's past days as an area of manufacturing. Bubby's Tribeca offer families a fun atmosphere and comfort food classics. The atmosphere makes guests feel like they have wandered into Grandma's (or perhaps even Bubby's) kitchen. Parents love the farm-to-table offerings that are as socially responsible as they are tasty. Late-night revelers appreciate the midnight brunch that's served 24-hours a day on weekends.
Nightlife 

Tribeca is home to some of the most exciting nightlife in NYC and 111 Murray Street will be located in the middle of it all. For a good laugh, locals love heading to the Tribeca Comedy Lounge. Located on nearby Warren Street, it's a literal hop, skip and a jump from 111 Murray Street. Customers appreciate the huge list of affordable drink specials and long lineup of edgy comedians. The venue was voted "Best Newcomer" by Time Out NY.  Locals also love heading to Haus NYC for some thumping house beats. Customers can treat their friends to late-night bottle service while checking out a few international DJs on one of three floors.
Shopping 

Tribeca is an up-and-coming shopping district and adjacent SoHo has some of the best stores in the city. Residents of 111 Murray will be able to walk a few blocks to Broadway for chain stores and discount shopping or head to Prince Street and Mercer Street for high-end stores, like Chanel, Louis Vuitton and Tiffany's.
List of Schools

HS 475 Stuyvesant High SchoolPS 150PS 234Tribeca Community School
Don't want to wait? If you are looking to buy now, check out Noble Black's latest listings
here
.
Noble Black Real Estate
575 Madison Ave New York NY 10022Tel: 212 909 8460