While the cost of
living in Manhattan
is creeping higher and higher every day, if you've chosen it as the place to raise your kids, you want to ensure you are buying or renting a home in the best neighborhood possible. As a
collection of villages
, Manhattan offers many options for you to settle down in, however only a few are top-tier and family friendly. Since it takes a village to raise a child, we've selected the top three NYC villages ideal to raise your kids in.
Upper East Side

The embodiment of New York City chic, the Upper East Side is a classic part of Manhattan perfect for raising kids. With tons of restaurants, shopping, parks, and cultural offerings, everyday conveniences as well as indulgences are within walking distance. With low crime, thousands of trees, and and a number of premier private and public schools, the Upper East Side exudes a family-friendly atmosphere. The Dalton School, The Rudolph Steiner School and the Spence School are all located in this neighborhood as well as some of the city's best public schools including P.S. 290 and P.S. 6.
Even though subway access is relatively limited, you won't have to travel far to find something entertaining to do with your kids. With the largest park in the city – Central Park – running alongside the entire neighborhood, a huge green space is at your family's disposal to enjoy year-round. Immerse your kids in culture by spending a day at The Metropolitan Museum of Art, the largest art museum in the United States, or at the Solomon R. Guggenheim Museum, a historic NYC staple.
Luna Rossa and Mezzaluna are a few of the many kid-friendly restaurants in the area that you can enjoy with the whole family. Brimming with grand apartment buildings and historic brownstones, and boasting beautiful tree-lined streets, the Upper East Side is also a part of town pleasing to the eye. Even though it is not the most affordable part of town, if your budget allows it, the Upper East Side is a great place to raise a family.
Upper West Side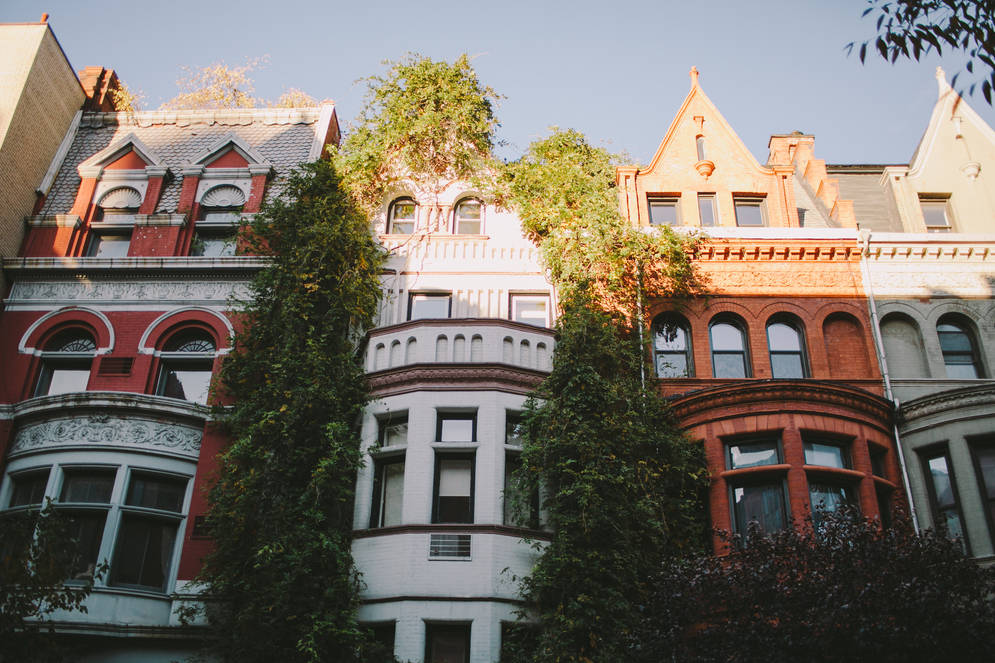 Comparable to the Upper East Side, yet characterized by a more laid back and relaxed lifestyle,
the Upper West Side
is a paradise for families. With brownstone lined streets abound, this area has a small town suburban feel that many families seek when looking for somewhere to make their home. Many of the city's finest private schools are found in the Upper West Side, including Trinity School and the Calhoun School.
There are many attractions in the Upper West Side that make it an ideal place for kids to grow up. The Children's Museum of Manhattan is an obvious choice and features five floors of exhibits ranging from literature to science to art. The museum also has programming year-round for kids to participate in. The American Museum of Natural History is also located in the neighborhood and Central Park is easily accessible from almost anywhere in the Upper West Side.
Commuting to downtown via public transportation is very easy from this area, and the majority of residents choose the subway or bus over driving. Many of the restaurants in the Upper West Side are child-friendly, like Alice's Tea Cup, Gabriela's, and Fatty Crab, making eating out and exposing the whole family to different cuisines easy. With rent around $6,000 a month for a two bedroom in a building with a doorman, the Upper West Side is also accompanied by a hefty price tag, but the lifestyle and advantages it provides for families make it one of the most desirable places to raise your kids.
Battery Park City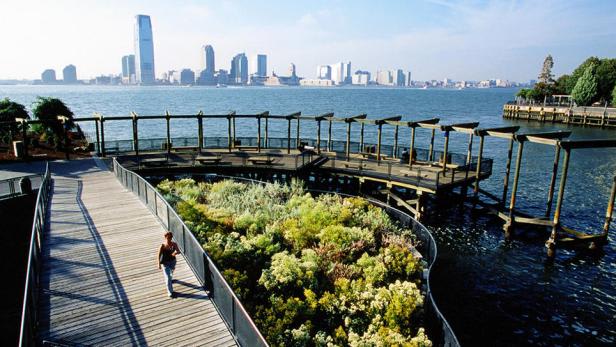 With the best school district in Manhattan, low crime, and wonderful parks, Battery Park City is quickly becoming the place to be for families. Easy access to the subway makes commuting a simple task and the variety of shops, restaurants, and recreational activities provides for a wonderful environment that both parents and kids can enjoy.
In the warmer months, Battery Park City is a playground mecca, with Teardrop Park, West Thames Park, and Nelson A. Rockefeller Park & Playground all offering great places to enjoy the outdoors and have some fun. The New York Kids Club as well as the Poets House Children's Room are great places to go on a rainy day or when cold weather rolls around for recreational as well as educational programs.
Battery Park City is filled with several well-rated Italian restaurants great for families, including Parm, Harry's Italian, and OTTO Enoteca e Pizzeria. A much newer neighborhood than those discussed above, many of the buildings in this area have not been around for more than a few decades, and many of the high rises feature breathtaking views of the Hudson River. The average rent for a two-bedroom in Battery Park City hovered around $7,000 in June 2016, making it the most expensive on our list, however well worth the expense for all the amenities families can enjoy.
For more information about luxury real estate in Manhattan, please visit
www.nobleblack.com
or contact Noble directly via email at
[email protected]
.